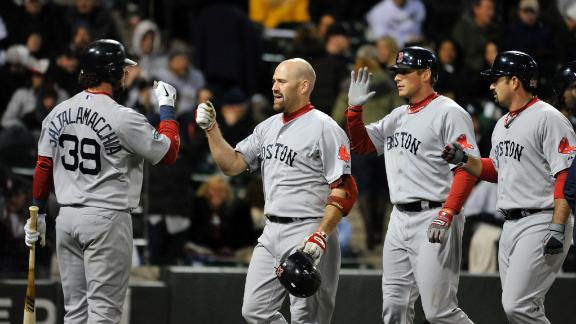 In what was a cold, bitter night, the Boston Red Sox strung together 10 runs on 13 hits and have now won five straight games with a 10-3 win over the White Sox tonight.
Five players in the Sox lineup had two-hit nights, most notedly Darnell McDonald who broke the game open with a bases-loaded clearing double in the sixth and a solo home run in the ninth to finish with four RBIs on the evening.
Cody Ross also continued to swing the bat well as he tacked on two more hits and drove in two runs. In Ross' past six games, he has driven in 11 runs on 7 hits. I said it during spring training that Ross was a huge pick-up for the Sox and I will stick by it until he gives me a reason to stop believing in him.
And I can't forget to mention the sizzling hot start that David Ortiz is having thus far. Ortiz is hitting .425 and knocked his fifth home run of the season out of the park tonight in the second inning. Pretty incredible to think that two years ago the Sox were thinking about releasing this guy after the horrific start he had, and now he is second in the Bigs and first in the AL in average.
As for Daniel Bard, he is making a strong case for himself as to why he belongs in the rotation and not the bullpen. Bard went 7 strong innings giving up three runs, two of them earned, walked one and struck out six. Bard is 2-2 on the year with a 3.76 ERA.
The Red Sox pitching staff is dead last in the MLB with a 5.86 team ERA and Ben Cherington and company are going to have some tough decisions to make within the coming days. With Bard doing well as a starter, and Aaron Cook's opt out date nearing, someone has to get demoted. I don't care how good their offense is, the Sox won't survive the season with the way they have been pitching.
As much as it hurts to say, my vote goes to Clay Bucholz for a demotion. Bucholz is 2-1 with an 8.87 ERA. In four starts (22.1 innings), he has given up six home runs, has a .340 opp BA, and a 1.93 WHIP. Bucholz has by far been the least productive starter for the Sox, and I think it would do him well to option him to Pawtucket for a few starts and give Cook a chance in the rotation.
Jon Lester looks to pick up his first win of the year tomorrow night as he takes on Jake Peavy who is 3-0 on the year with a 1.88 ERA. First pitch is set for 7pm.