At this point one year ago, the Bruins were getting ready for game 3 of their Eastern Conference Semifinal series up 2-0 against Philadelphia. As fans, the dream of a Stanley Cup was still in the beginning stages, but the B's were playing their best all year and looked as good as any team in the league. Fast forward to now, and Claude Julien's squad is a week removed from a season ending game 7 loss to seventh seeded Washington.
GREAT TRIBUTE VIDEO TO 2012 B's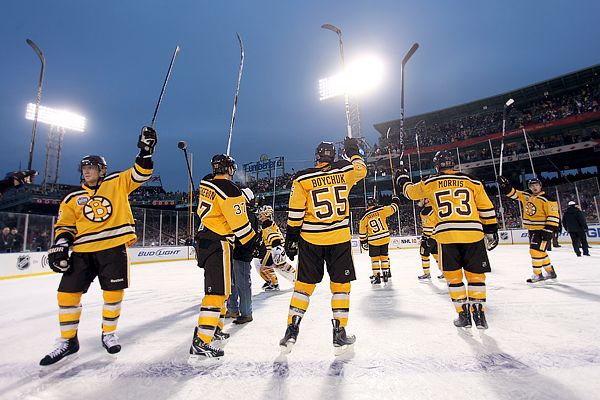 Unlike any other sport, all 16 teams that qualify for the Cup playoffs have a truly equal shot at finishing as Champions. That has never been more evident as it was this year, with favorites Vancouver, Boston, and Detroit being taken out before the playoff beards truly took shape. While the end result is just as devastating as any, there are a few things that need to be taken into account before writing off the B's title defense as a failed one.
First of all, Andrew Ference has been quoted on WEEI as saying the players on last year's team attributed their near perfect health as the main reason they were able to win it all in 2011. That was clearly not the case this year, as Adam McQuaid, Tuuka Rask, and Nathan Horton all had their seasons end before the playoffs even started. Patrice Bergeron led a cavalry of banged up Bruins that were able to play through the pain courageously in the Capitals series. Bergeron, possibly the premiere face off man in the world, was not able to take his usual spot in the center dot, creating a huge disadvantage right off the bat. While Boston certainly won't make injuries an excuse, good fortune was not on their side this time around.
Also, there is no shame in losing a series to the high octane, physical Capitals. This team was much better than their seven seed indicated, as a dreadful start led to the firing of their coach before January. Alex Ovechkin led his team on a tear in the second half, and on a pace that would have made them a shoe-in for the Southeast division title and a three seed if not for the bad start.
This series was also the CLOSEST SERIES IN PLAYOFF HISTORY, with all seven games being decided by one goal, including four games that went to overtime. One more lucky bounce, or Braden Holtby not playing the best hockey of his entire life and the B's not only win the series, but face Philadelphia in a bloodbath second round rematch.
The 2012 Boston Bruins will be remembered for their disappointing finish following up a Stanley Cup season. However, night in and night out this team played hard and fought through adversity to another division title. Through all the injuries and setbacks, they never wavered and defended their title with dignity, the way a defending champ should. Their core will remain intact, and the front office has done a great job ensuring that they will have as good a chance as any to win another Cup with this group for the next five or six years.