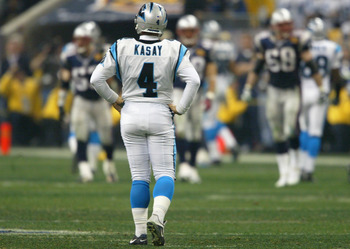 If Torry Holt hadn't slipped at the line of scrimmage, allowing Otis Smith to pick off Kurt Warner easily setting up the Patriots first field goal of the game in Super Bowl XXXVI, then Ricky Proehl's 4th quarter TD would have won it for the Rams.
If John Kasay didn't kick the final kickoff of Super Bowl XXXVIII out of bounds, the Patriots would not have been in field goal range for Adam Vinatieri to win the game.
If game 3 of the 2004 ALCS hadn't been rained out, pushing the final 5 games of the series on consecutive days, the Yankees would have had a day off before game 6 to settle down and kill the Sox momentum, as well as possibly allow Mike Mussina to start game 7 rather than Kevin Brown.
The Eagles dominated on third down conversions in Super Bowl XXXIX, going 9/16 while New England was only 4/12. Imagine what Terrell Owens would have done on two completely healthy legs?
If Joel Skinner sent Kenny Lofton from third base, game 7 of the 2007 ALCS surely would have gone down differently.
If Andrew Bynum was healthy for the 2008 NBA Finals, the Lakers would have had a much better chance.
If Corey Schneider started game 6 of the Stanley Cup Finals last year, rather than Alain Vigneault waiting for Luongo to give up 3 goals in the first period before being pulled, the Canucks could have finished off Boston in that game rather than sending it to game 7.
All of these arguments are obviously ridiculous. Every champion gets a break here or there on their way to glory. That's just the way sports work. While some of these are more far fetched than others, all seven of these Boston championships got breaks here and there.
Yes, the Giants were given some of those breaks as well on Sunday night. Yes, the Patriots were not given anything in the Super Bowl.
The one thing the Giants have in common with the '01, '03 and '04 Patriots, the '04 and '07 Sox and recent Celtic and Bruin winners is that while luck might have been on their side at times, they capitalized on their opportunities and covered up for their own miscues. What goes around comes around.