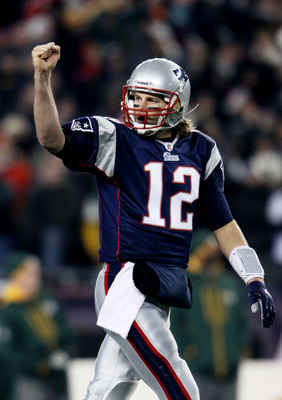 It was reported today by ESPN that Tom Brady has sustained a left shoulder injury that required x-rays (Does this impact your opinion on playing the starters in week 17? Please comment on
JCole's post regarding the issue
).
Listen, I value Brady's importance to this team just as much as anyone. If this is going to have a negative affect on his play, the Pats have no shot at winning a playoff game. In fact, I have thought that his tennis elbow issues have had a noticeable impact on his accuracy at times during the year. However, knowing the attitude that he and Belichick have towards the game, I just don't see him sitting nor it being any excuse for a drop in performance. The guy spent two full seasons on the injury list for soreness in his throwing shoulder. This reported injury is to his left shoulder. It shouldn't have any impact on his motion or accuracy. What will be a concern is keeping him upright and avoiding getting driven into the ground against Buffalo. With Logan Mankins, Matt Light, Sebastian Vollmer, and Brian Waters all seeing limited or no practice time this week, this becomes even more of a concern on Sunday. NFL.com lists Brady as missing practice today due to a non-injury related reason as well.
It should also be noted that Belichick has a soft spot for football history. With Brady's chance at breaking the all-time single season passing yardage mark with a big game Sunday, it is possible that not only will he play, but could stay in the game regardless of the score if he keeps pace with what he needs to do statistically.
At the end of the day, this team is just as flawed as it is banged up. In order for the Patriots to make a run towards the Super Bowl, Brady is going to have to be brilliant as he has all season. He has to play up to the precedent he has set for this team to have a shot. Getting an x-ray today does not change that.