This is the fifth installment of our countdown to the top moment in New England sports for 2011. Parts 1-4 can be found by scrolling down on our main page.
#2: Thomas and Roloson square off in Game 7 of East Finals
Simply put, this was the best-played hockey game I have ever seen. Prior to game 7, both teams had squandered opportunities and at times completely fell apart defensively. Highlights included the emergence of
Tyler Seguin
, who was stepping in for a concussed Patrice Bergeron, and Thomas's
save of the yea
r on Steve Downie in game 5.
This game was a different story. Both teams played lights out defensively. Tampa relied on its 1-3-1 zone that gave Boston fits
when it was executed. Boston answered with superhuman efforts by Dennis Seidenberg and Zdeno Chara, who logged ridiculous minutes on the blue line. Seidenberg was actually named the first star of the game, with 27:57 minutes played and EIGHT blocked shots. With a Stanley Cup berth on the line and a rabid crowd at the Garden, the intensity was palpable. Neither team was called for a penalty the entire sixty minutes. The flow of the game was brilliant, and game 7 extraordinaire Roloson (had never lost an elimination game in his career) matched the Vezina Trophy-winning Thomas through the first two periods.
In the Montreal series prior as well as the Vancouver series that followed, the Bruins opponents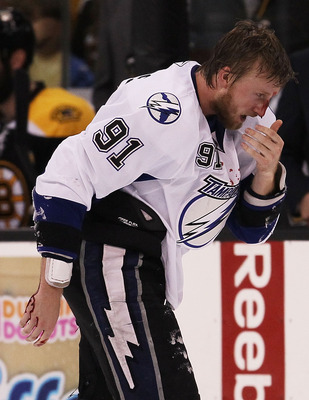 in those contests often resorted to
bush league tactics
and
diving
. Tampa Bay would do no such thing. They were a tough and physical yet clean group of hockey players. Young sniper Steven Stamkos epitomized that effort, taking a Johnny Boychuk slapshot to the
nose
early in the game, only to return 12 minutes later.
Finally, with about seven minutes to play in the third, Andrew Ference started a clean breakout for the B's. He made a beautiful pass to a streaking David Krejci who gained entry and took the puck wide, allowing Nathan Horton to fill the middle lane. Krejci fired a saucer pass to Horton who kept his stick low on the wide post and connected for the
game's only goal
. Roloson never had a chance on the perfectly executed play.
Boston continued to play rock solid defensively for the final minutes and clinched their first trip to the Cup Finals in 21 years. If you have twenty minutes, I urge you to watch the
condensed version
of this game, full equipped with the Garden's support system being tested as fans never returned to their seats following the Horton goal. Gives me chills every time.
TOMORROW: What could possibly beat this? Our countdown concludes with the Top Moment in New England sports this year.